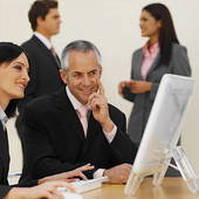 WALL

2

WALL

Computer Solutions is a full service IT Service Provider. We deliver IT related Products and Services to small and mid-size businesses all across Middle Tennessee.

With more than 25 years' experience in the Computer Service Industry we have the expertise and resources needed to handle all of your computer related needs literally wall-to-wall.

From initial consultation, to implementation and on-going support we make IT management simple and affordable.
---
Are You Looking for an IT Managed Service Provider ? Check out our:

"Top 10 Value Proposition"
Consistency:

​We will provide the same level of urgency and service delivery without any degradation over time.

Stability:

​We will keep your IT environment stable and reliable through proactive management, system monitoring and rapid response to service issues.

Proactive Performance:

​We utilize a small management agent loaded on each computer system to provide 24/7 Health Monitoring, Performance Optimization and Remote Support.

Securty & Protection:

​We protect your systems from outside and internal threats through the use of Hosted Managed and Monitored Virus/Malware Protection, Hardware based firewalls, local and Cloud based Data protection designed to fit your business requirements.

Responsiveness:

Responsiveness means being there when you need us, not when we can get to you. The majority of issues encountered on daily basis which cause disruption to your office productivity can generally be resolved through phone/remote support. That is why we utilize this as our first line of response. By doing so we provide a quicker less invasive response minimizing any unproductive down time to your business. By providing the majority of our responses in this fashion we reduce our overall time to resolve service calls giving us greater availability to respond onsite when required.​

Capability:

​Experience is critical when it comes to resolving problems and delivering technology improvements in your work environment, that's why we ensure that your IT Service Professional has the training and experience required to maintain your business environment.

Communication:

​Communication is critical in all aspects of business. IT Support is no exception. We strive to match our communication delivery to the expectations of our clients. We won't leave you in the dark when you have a problem, but we won't waste your time telling you every little detail when you really don't care. We will communicate with you, on your level, at your desired frequency. We believe there are no wrong questions, if we did not communicate it, and you want to know, just ask.

Value:

Value / ROI however you want to spin it, everyone wants to know they are getting the best bang for their buck. That said, there are multiple definitions of value and that is why we want to understand what is important to you, before we provide our proposal. We feel like this is the only way we can be sure we are delivering the best value, and the best service possible, for your hard earned dollar.
​

Flexibility:

​Flexibility and Value go hand in hand. That Is why we remain flexible in our service delivery proposals, our matching of service delivery personnel and our working around your business schedule and priorities in the delivery of new technology and non-critical services.



Guidance:

​

Proper guidance for our clients is not only a privilege, but a responsibility. In order to provide responsible guidance, we take time to learn about your business and your personnel. Knowledge of your needs, paired with our knowledge of the latest available technology and productivity enhancements ensures that you are not on your own when trying to make the best Technology decisions for your business.






​
Phone : 615-522-1150 Email: rwall@w2wcs.com